Replace the existing taper in your boring mill spindle bar with a Locher Insert.
Easily swappable on-site, regrindable, cut down time to less than an hour.
Boring Mill Inserts
Tapered inserts once installed are replaceable on-site at the machine. They were designed and manufactured by Locher, Inc. Machines with and without tool changers can be retrofit. Standard CAT or Big Plus tooling can be used in the inserts. After a crash with the spindle has happened, they are able to be reground back to new specifications or can be pulled and replaced as needed in about 1 hour. Machine downtime is reduced to hours instead of days or weeks. The installation of the insert into a standard bar takes about 5 days on-site, to complete. We have customers that have the inserts installed into every boring mill due to its advantages over solid tapers. The inserts are 62Rc case hardened to give long life in production. We recommend that the insert be reground in-place as needed and replaced only after regrinding is not possible. The close fit between the insert and bar can be damaged causing runout in the new insert. Caution must be used when replacing the insert. Call us today at 800-956-2437 for a no cost consultation.
Call us today at 800-956-2437 for a no cost consultation.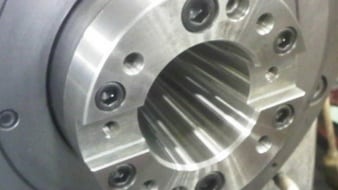 Request a Free Quote
At Locher, Inc. we provide our customers with complete spindle rebuilding, in-place spindle regrinding, tapered insert retrofits and bar & sleeve repairs - performed either in our factory or yours. Contact us for a free quote.
Contact General Office
422 Quarry Road Lancaster, Ohio 43130 | Toll Free: 800-956-2437

Email: Julie@locher.com